I finally finished my Sous-Vide setup. Cooked some fork tender sirloin from Friday and into Saturday.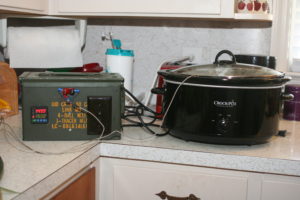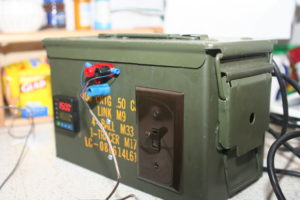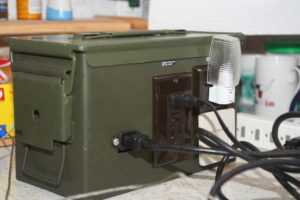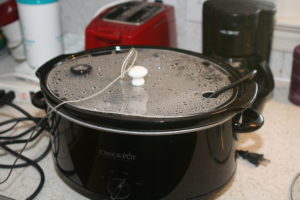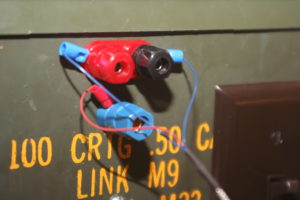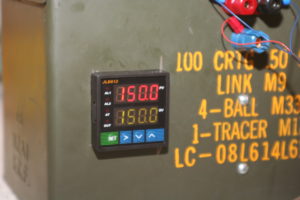 Over all, I followed Scott's design over at seattlefoodgeek.com. Great work. My design changes were:
Mounted the equipment in a used ammo can. I just didn't have a warm feeling about mounting 120VAC electronics, inches above hot water. I've used ammo can's for project enclosures before. I like them. Very cheap, and have that "kinda evil" look.
Added GFCI receptacles to the back. This allows me to use un-modified 120VAC heater elements without having to solder them everytime one burns up. It also adds a small measure of safety.
It also allows me to use a Crock-Pot. Which I did. Just turned the Crock-Pot on high, and let the solid-state relay blink it on and off. I made a custom immersion bath, worked great, but my wife wouldn't let me bring it indoors. Something about being scared I'd burn the house down.
Added a 120 VAC 15A switch.
Used an aquarium pump inside the crock pot for water circulation. This helps tremendously keeping a uniform temp in the water bath.
Added a power entry connector (similar to those used in PC's) to the "enclosure."
Added test jacks to connect the platinum RTD, This allow a much quicker setup.
Made a custom lid for the Crock-Pot out of plexi-glass. Drilled holes in it for the equipment.
I bumped up the filtering on the PID algorithm to get rid of what appeared to be electrical noise.
Just had to use the night lights for indicators of when the heaters are on. I need to find one with some sort of design on it though.
I am so far very impressed with the unit. I was floored that one can buy an autotuning PID controller for under $40. So far, it appears to be holding the set-point temp to within +/- 0.2F or so.
–Update, and autotuning PID controller can be had much less (around eight bucks now)..
After the steaks (cooked 24 hrs), I can't wait to try new recipes. Recommend this book.
them.